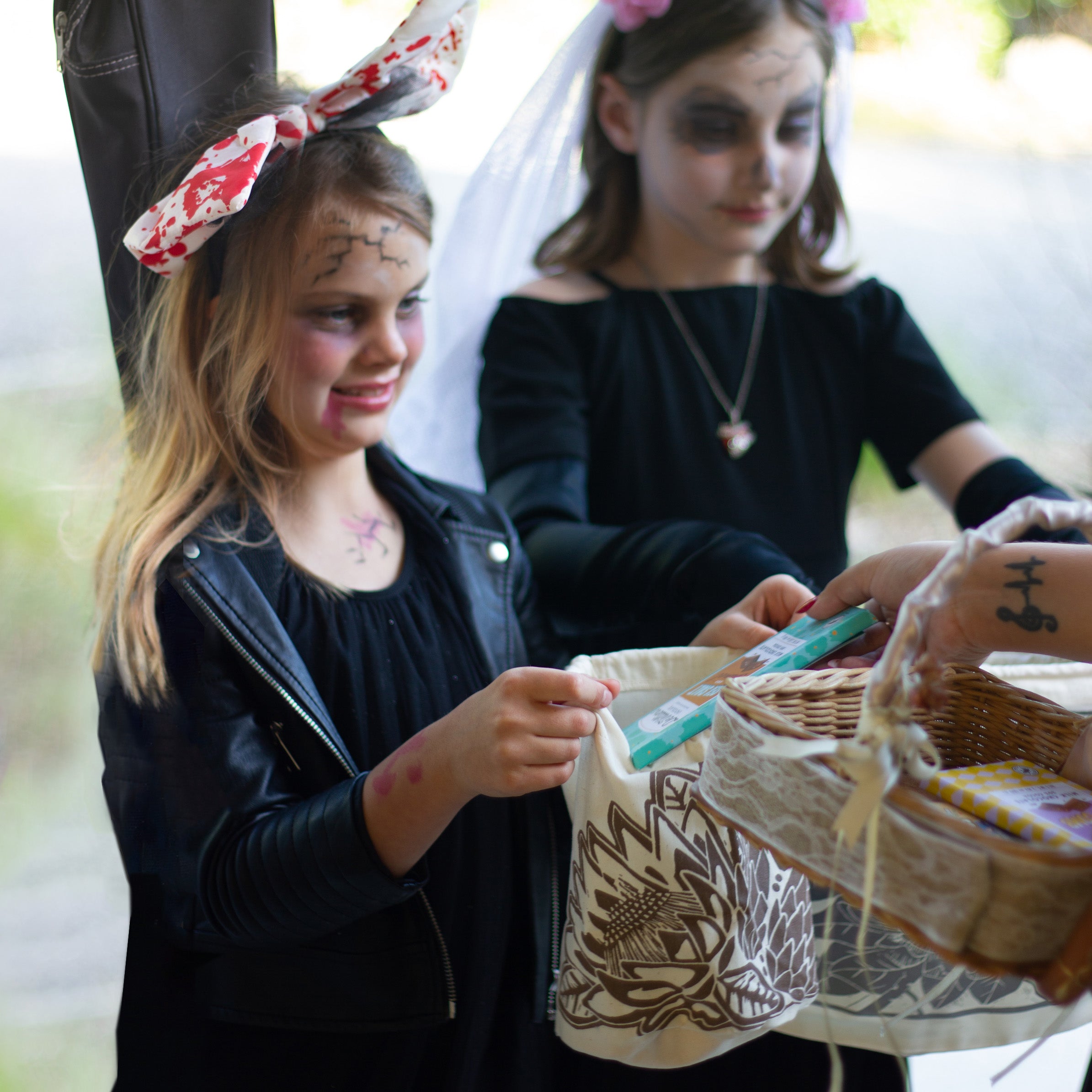 The spaZa guide on how to green your Halloween
Halloween is one of the most adored holidays of the year and with good reason. It's an excuse to let your hair down, adorn yourself in crazy costumes, watch horror movies all night and consume copious amounts of candy. Sadly, the traditions that we have come to know and love about Old Hallow's Eve also carry with them a whole lot of waste. 
According to a report by U.K.-based environmental charity Hubbub, the plastic waste generated from "disposable" Halloween costumes and clothing exceeds 2,000 tons annually. And that number does not include the waste generated from Halloween decorations and candy. 
All hope is not lost for Halloween enthusiasts, though. We've got you covered with this helpful guide with tips and tricks on how you can reduce your environmental impact throughout spooky season. 
Choose your candy consciously 
Conventional Halloween candy is synonymous with individually-wrapped sweets that have sometimes questionable names. Sadly, the commercial chocolate industry is driving deforestation and species extinction due to their high demand for cocoa beans, sugar and palm oil. And we're not even talking about the waste created by the non-recyclable wrapping that these candies are packaged in. 
One way you can reduce your Halloween footprint is by making some homemade sweet treats. Think cookies, fudge and other DIY Halloween treats. And instead of wrapping them in cellophane or plastic, you could put them straight into paper bags or hand them straight over. They won't last long ;-)
And if making treats is too time-consuming, opt for products containing Rainforest Alliance-certified cocoa and sustainable palm oil. If possible, choose candies with recyclable packaging or no packaging at all. 
Ditch the fake spider webs 
We know they're a Halloween staple, but fake spider webs can have major consequences for the environment. Most of them are made of polyester, which can take up to a millennium to degrade in landfills. Polyester spider webs can also pose a major risk to wildlife that can get caught in them and lack the strength to free themselves. 
If you must include spider webs in your decoration repertoire, make your own with yarn, but make sure to leave plenty of space in between the "threads". 
DIY, swap or thrift your costume
Buying a new costume every year can be extremely wasteful, especially because most of them are made of cheap materials that release microplastics when washed. Instead of supporting the $3 billion Halloween costume industry, why not DIY your way to success? Simply look for material around the house or source your costume from a friend. 
Another fun way to source a new Halloween costume is to host an annual costume swap. Or hit up your local thrift stores and vintage boutiques for a unique take on your next Halloween ensemble. 
Say no to plastic trick-or-treat buckets
Trick-or-treat buckets decorated as Jack-o'-lanterns, cauldrons or Frankensteins can be a lot of fun but they're not necessarily a necessity. Once your kids grow up, those buckets will sit and gather dust in your garage or attic, or worse yet, end up in a landfill. Opt for a reusable basket, pillowcase, or our personal fave, a reusable produce bag or bread roll bag - all of which do the exact same job without the harmful impact on our planet. 
Use every part of the pumpkin
The beloved tradition of carving pumpkin is an inherently wasteful practice. You gut a squash just to carve it up, throw out the contents and then leave it on your porch to rot for the month. Thankfully, you don't have to ditch the whole effort in order to make it sustainable. You can salvage the pulp for soups or broths and the seeds for roasting. 
After Halloween passes, put the rest of your Jack-o'-lantern out for wildlife to eat rather than throwing it away. Just make sure it's cut in half first so they don't get their heads stuck in it. And if you don't have a yard, consider donating them to a local animal shelter. 
And there you have it!
With these tips, you can be conscious without missing out on all the spooky fun. Have a Happy (green) Halloween!