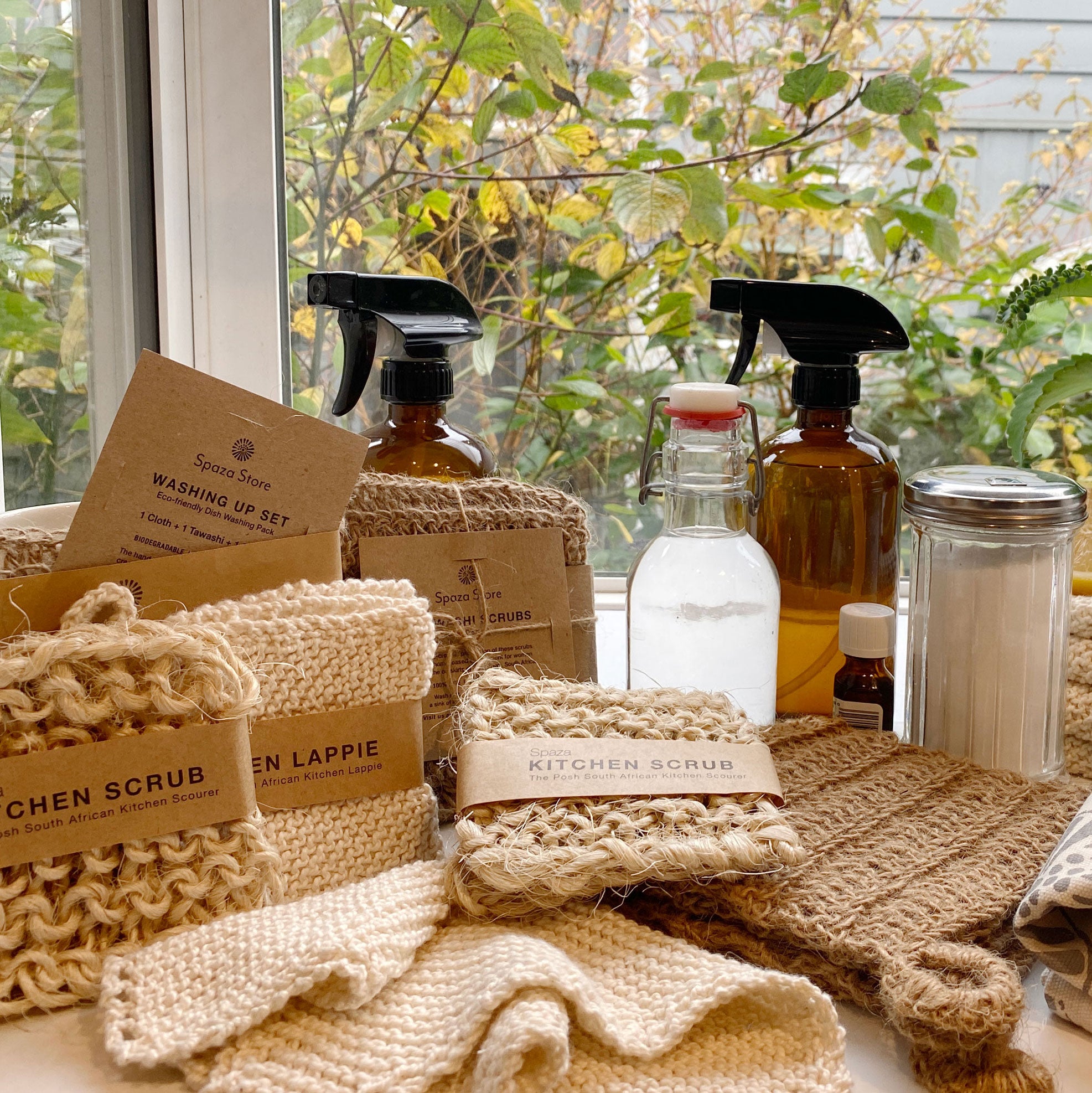 The Spaza Guide to a Green Cleaning Routine
After a year of acclimatising to the "new normal", it's safe to say that your home probably needs a little TLC. And with Christmas fast approaching, now is a better time than ever to clean up and start the new year on a squeaky clean foot. 
Before you get all your cleaning supplies out and start wiping down every surface in sight though, it might be worth considering your cleaning routine and looking at ways you could make better choices regarding the health of not only your household, but the environment as well.  
From eco-friendly swaps to DIY solutions, we're here to help you on your way to green cleaning success. Let's get into it…
Ditch the disposables
Did you know that it takes approximately 17 trees and almost 76,000 litres of water to produce just one ton of paper towels? 
In addition, paper towels cannot be recycled due to the manufacturing process that goes into making them. While they start off as mixtures of wood, cardboard and paper by-products, these get pounded into a pulp that weakens and breaks down natural fibers. And even the brown, unbleached types are not suited for recycling due to contamination once they are used. 
You can boost your eco-conscious efforts by switching to reusable alternatives such as old clothes, old sheets or biodegradable kitchen cloths. They make for perfect cleaning supplies without unnecessary waste. 
Biodegradable cloths are also multipurpose and can be used in several different ways. While they are known for cleaning up kitchen spills, their life can also be extended to the bathroom where they can be used for personal care. From the bathroom tub to the kitchen counter and the playroom, you can certainly get the most out of your cloths.
Mix up your own solutions
If you're ready to save time and money, a great place to start is by mixing up your own cleaning solutions. 
Start with baking soda and vinegar - two of nature's most famous cleaning wizards. They're readily available, non-toxic and make excellent bases for homemade scrubs, pastes and sprays. 
If you're looking to get a little more adventurous, check out our Pinterest board for some DIY mixing inspiration. 
Get creative with repurposing
Giving new life to old items is not only simple and easy, but super beneficial for your pocket as well. 
Combine your love of all things budget-friendly and planet-friendly by making use of old household items for new chores. 
Our favourite tricks:
Using old socks as dusters

Using old shoe boxes as storage bins

Repurposing glass jars for storage 

Utilising dryer lint as a fire starter  
Listen in to an eco-friendly playlist
Take a break between scrubs and sweeps by tuning in to sustainable living podcasts. 
Some of our favourites include Practical(ly) Zero Waste, The Slow Home Podcast and Sustainable Minimalists. 
Skip the scents
Filling your home with cosy smells shouldn't damage the environment. Opt out of synthetic fragrances by simply ditching chemically-enhanced air fresheners and cleaners whenever possible. Baking soda is also a natural deodorizer, making it a great addition to homemade cleaners. 
According to studies, synthetic fragrances often contain phthalates, which have been linked to asthma in children. 
Swap unnatural scents for essential oils and homemade potpourri instead. 
Need more inspiration? Here are some links for further reading:
Climate Change: How to be more eco-friendly in everyday life
100+ Simple Tips To Live a More Sustainable Lifestyle
40 Ways to Go Greener at Home (Besides Just Recycling)
14 Holiday Diffuser Recipes To Make The Season A Little Brighter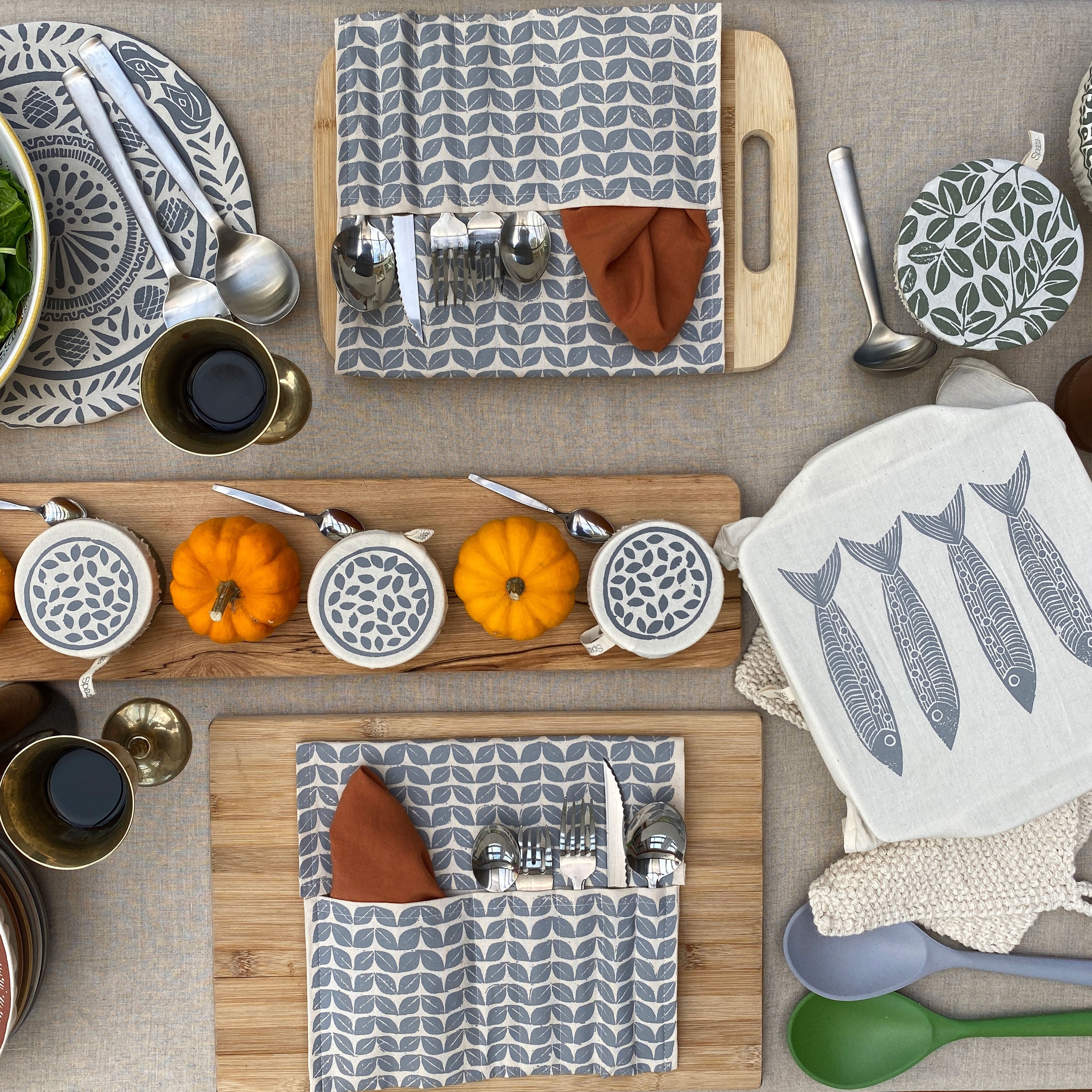 Cutlery Roll Entertaining Ideas
The 2020 Holiday season was a quiet affair - lacking most of the traditional hallmarks of the busiest time for entertainment and dining. Thankfully, after a year of smiling through masks and sanit...
Read more